Chic. Timeless. Classic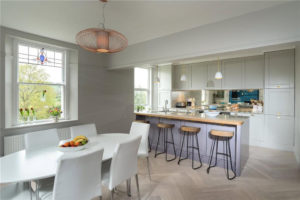 Open plan kitchen diners are high on the wishlist for modern family living. And with good reason. The combined spaces quickly become the hub of the home, adding and enhancing interaction between parents and children; from young babies on the high chair facing the mother on the other side of the island, to dad supervising homework at the dining table while he makes brunch. Islands create highly ergonomic work zones while allowing the cook to face guests and family – a vital primal element of human interaction!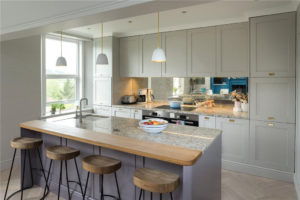 In this Batheaston detached house a medium sized kitchen was cut off from the living and dining room and accessed by a long hall. Our solution was to remove the wall between kitchen and dining room, using an island and simple symmetrical design to reflect the energy back into the living space. Maximising the width of the room and avoiding the busy-ness of filler panels called for some bespoke design and building of the cabinetry using traditional skirting and coving and having to work around the existing stairwell to the basement which projects into the room in the area to the right of the ovens. The solution was to use dummy doors, whilst designing the whole wall of cabinetry around the proportions of the stairwell boxing!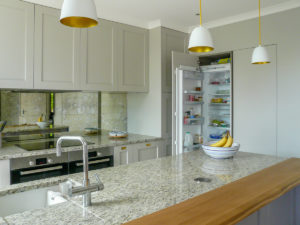 The existing doorwary to the kitchen was repurposed as a niche for a large larder fridge and ajoining pantry storage with thick panel doors made to blend with the walls so as not to detract from the elegant geometry of the design. The solid, family feel was created using traditional materials of granite, shaker frame doors, solid oak breakfast bar and white ceramic sink. However a much more funky warmth was added to this pallet by using gold recessed handles, gold cabled and internal pendant lighting, and antiqued mirror splashback, with the island painted a beautiful muted violet for contrast and style. The whole new space is unified by the bleached oak, herringbone parquet flooring.