Sumptuous. Intimate. Beautiful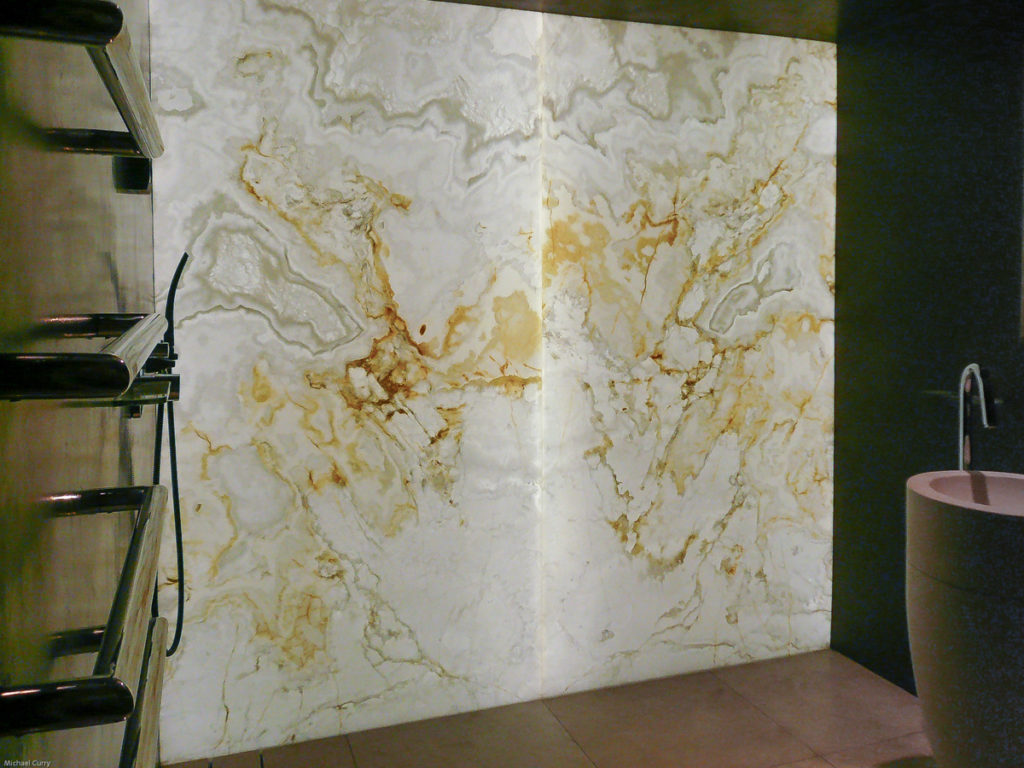 A nineteenth century church house in rural Dorset, with stone mullioned windows with leaded glass, where the challenge was to convert a bathroom into a luxury en suite wet-room – with maximum wow factor!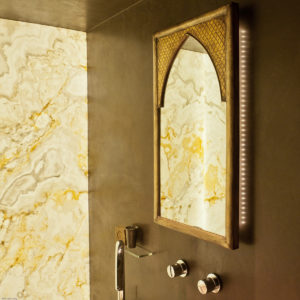 Most people include the words "light and airy" in their interior design wish list, but this can be unnecessarily limiting, and in this case the clients appreciated the design possibilities of using dark surfaces. With the only natural light coming from the mullioned windows at one end, our concept was to introduce a "balancing" light source at the other end. But how to compete with the beauty of natural sunlight?
Our solution was to turn the whole wall into a panel of semi-precious onyx stone, sliced in two and "book-matched", then backlit by a specially made LED light panel. The result is an astonishing feature that resembles photographs of space nebula, bathing the room in an amazing golden light. Along the base of the panel is a 7 mm slot where the wall meets the floor, which constitutes the drainage gully for the shower. The whole floor, tiled in Crema Marfil limestone, slopes down to this barely visible drainage slot.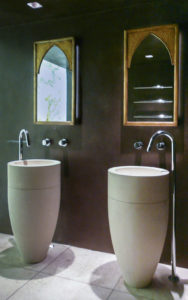 We generally prefer to avoid the acoustic harshness and clinical feel of fully tiled rooms. In a wet-room this presents a challenge, which in this case we resolved by plastering the whole room, including the ceiling, in dark brown Tadelakt, a waterproof Moroccan lime plaster. The plaster creates an amazing softness and natural warmth. Dark brown creates a sumptious intimate feel, accentuating the beauty and impact of the onyx light wall.
The twin "Bongo" basins are made from solid limestone. Floor mounted basin spouts add drama. Symmetry was enhanced by designing hand made gold mirrors with the gothic arch of the neighbouring parish church. Shower valve and taps are high quality "Citterio" range from Hansgrohe Axor. The loo is from Vitra's "Istanbul" range designed by Ross Lovegrove, continuing the organic, hammam feel. It has a handsfree LED activated flush, concealed in plastered boxing that forms an underlit light-shelf, and with three storage niches backed in teal silk from the accompanying bedroom scheme.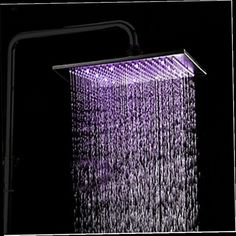 The shower is recessed in the ceiling – a black Vado square design with integrated lights to make the shower water any colour. A matching black hand-held shower is fitted to the wall by the shower controls. Stainless steel electric towel warmer rails are fixed to the wall by the door.
Going dark on walls and ceiling allows us to go to town with lighting! Waterproof LED ground-lights illuminate the Bongo basins from below, while black bezelled down-lights, hidden in recesses in the ceiling provide strong task light from above while the mirrors float on the wall on their own light sources.