Warmth. Style. Personality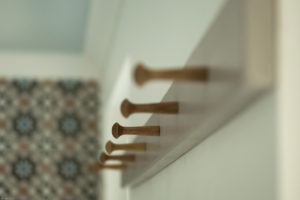 When previous customers asked us to replicate the style of  their bathroom in their new house outside Bath, similar motifs and materials where specified to give a classic but chic look, but first three small spaces – a bathroom, WC and small section of hallway, all with separate Georgian windows – had to be knocked into one larger new space, with the door moved to accommodate the new layout.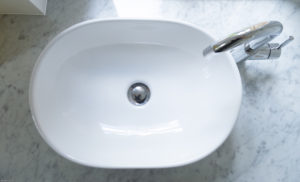 Since the window sills are all lower than standard basin height a degree of lateral thinking was required to design a bespoke basin/storage console that would fit the space like a glove, with a countertop basin sitting sculpture-like, on it's Carrara marble base in front of the side window. The console was made to "float" off the floor, with it's own bed of LED lighting.
Using the remaining two windows as design elements a small freestanding bath with wall mounted filler and valves creates symmetry to the space.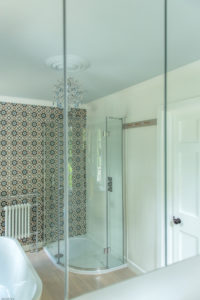 Avoiding the harshness of tiling, traditional features can be used to create a softer more classic style using bleached oak veneer flooring (double sealed for added waterproofing), new coving and skirting, and a bespoke, shaker-style pegboard in painted timber and solid oak to give the new unified space warmth and personality. The Moroccan-style tiling in the shower area is continued to create a feature wall to emphasise the room proportions and to avoid the Tardis-like feel of tiled shower cubicles. White waterproof shower cladding blends with the other wall to make the offset quadrant enclosure as light and invisible as possible.
As the room is north facing we added two more elements to the scheme – a small crystal chandelier and painting of the bespoke cabinetry the colour of sunshine!