Bright. Clean. Super-stylish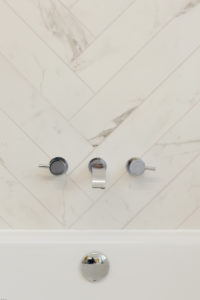 Contemporary and very stylish were the requirements for this family bathroom in Larkhall, Bath.
To enhance the sense of space in small bathrooms it is important to chose furnishings that reflect the scale of the room, to restrict the number of colours and finishes, and of course to utilise mirrors. As we generally design and build bespoke storage these could be achieved with an elegant tiled plinth to take the wall mounted loo and basin (more ways to create sense of space) with bespoke mirrored cabinets above. The shower cubicle is also bespoke, made onsite from UV bonded toughened glass, to fit the space at the end of the double ended bath.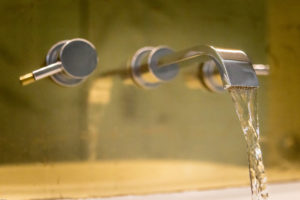 Colours were restricted to the classic white and grey of Calacatta marble in family-friendly porcelain from Mandarin Stone and, adding amazing warmth and glamour, a wall of toughened glass gilded on the back in 22 carat gold leaf. The opposite wall counters this with stunning herringbone pattern tiles accentuating the height and width of the room.
Powerful concealed LED lighting provides several sources of soft diffused light.